Always Xmas
Ceramics, organdy, 28 Christmas ornaments, dimensions vary (installation with 8 plastic Christmas trees), 2016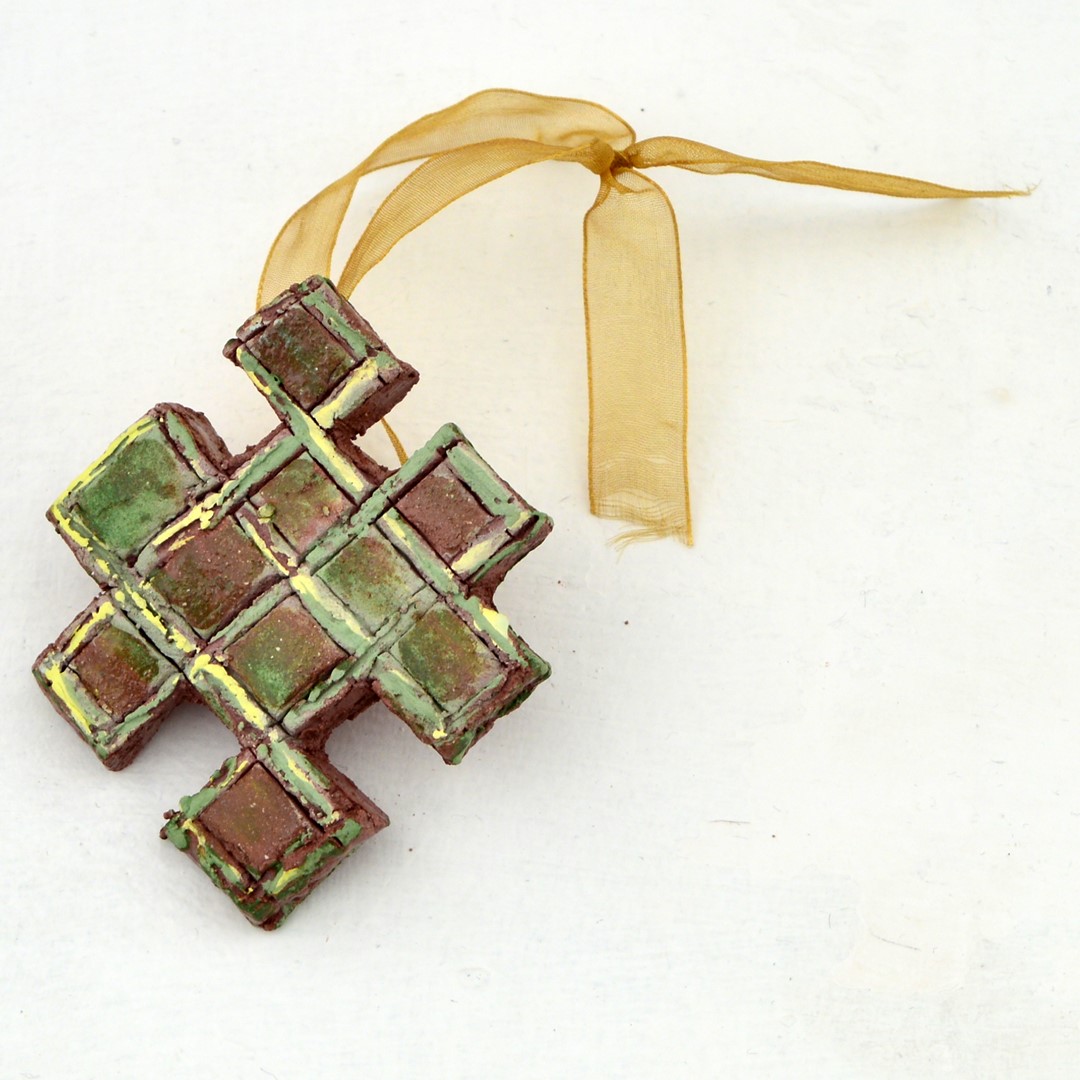 Col·lecció d'ornaments nadalencs per a l'arbre, a partir de 28 imatges de temps i cultures diferents. Gaudí està present en una versió del 'quadrat màgic ', on tots els números sumen 33, edat que va immortalitzar Jesús i un dels graus de la maçoneria (3 peces estan dedicades a la seva simbologia -'l'ull que tot ho veu' sol referir-se als Illuminati-. La vida avui s'explica a través de l'Adn, estructura perfecta que recorda a les teories de Fibonacci: la closca del nautilus, les pipes del gira-sol o fins i tot la banya d'un unicorn ens remeten a l'infinit, el 8 tombat, el 'srivtasa' tibetà, la roda medicinal, el trisquel, el ying-yang o el símbol de l'or alquímic, en un renaixement permanent presidit per la serp (en l'arbre del Paradís a la Bíblia o a l'ouroboros) -també podria ser la flor de lotus, un ou o una espiga de blat-, en connexió amb lo diví o la saviesa (l'aurèola, el sefirot o la icònica imatge de Michelangelo a la Capella Sixtina) sempre apuntant cap amunt (el pentagrama; 'ommm ...', o 'ummmo' ... -per experts en ufologia-). Misteris. Nadal X. Adorns per a un saló de preguntes sense resposta disposat a encendre la llar de foc...

Colección de adornos navideños para el árbol, a partir de 28 imágenes de tiempos y culturas diferentes. Gaudí está presente en una versión del 'cuadrado mágico', donde todos los números suman 33, edad que inmortalizó Jesús y uno de los grados de la masonería (3 piezas estan dedicadas a su simbología –el 'ojo que todo lo ve' suele referirse a los illuminati–. La vida hoy se explica a través del Adn, estructura perfecta que recuerda a las teorías de Fibonacci: la concha del nautilus, las pipas del girasol o incluso el cuerno de un unicornio nos remiten al infinito, el 8 tumbado, el 'srivtasa' tibetano, la rueda medicinal, el trisquel, el ying-yang o el símbolo del oro alquímico, en un renacimiento permanente presidido por la serpiente (en el árbol del Paraíso en la Biblia o en el uróboros) –también podría ser la flor de loto, un huevo o una espiga de trigo– , en conexión con lo divino o la sabiduría (la aureola, el sefirot o la icónica imagen de Michelangelo en la Capilla Sixtina) siempre apuntando hacia arriba (el pentagrama; 'ommm…', o 'ummmo'… -para expertos en ufología-). Misterios. Navidad X. Adornos para un salón de preguntas sin respuesta dispuesto a encender la chimenea...

Collection of Christmas ornaments for the tree, from 28 images of different times and cultures. Gaudí is present in a version of the 'magic square', where all the numbers add up to 33, age that Jesus immortalized and one of the degrees of Freemasonry (3 pieces are dedicated to its symbolism; 'all seeing eye' usually refers to Illuminati). Life today is explained through DNA, perfect structure that displays Fibonacci's theories: the nautilus shell, the sunflower seeds or even the horn of a unicorn remind us of the infinite, the 8 lying, the Tibetan 'srivtasa', the medicine wheel, the triskelion, the yin and yang or the alchemical symbol for gold, in a permanent renaissence led by the serpent (on the tree of the Paradise in the Bible or in the ouroboros) –it could also be the lotus flower, an egg or a wheat ear–, in connection with the divine or the wisdom (the halo, the Sephirot or the iconic image of Michelangelo in the Sistine Chapel) always pointing up (the pentagram, 'ommm ...', or 'ummmo '... for experts on Ufology). Mysteries. 'X' Christmas. Decorations for a salon full of unanswered questions, but ready to light the fireplace...